Monetize Your Passion Summit




With Johnson Emmanuel
​FREE live event That Shows You, Step By Step, How To Turn Your Passion, Talent, Expertise or Life Experiences Into A Highly Profitable Business
Dec. 9, 2017. ABA ROAD,pORT-HARCOURT
MONETIZE YOUR PASSION SUMMIT is a ONE-DAY FREE live event in Portharcourt on December​ 9,2017 that will show you step by step, how to turn your gifts, talents, passion, expertise, knowledge or life-experiences into a highly profitable business.
​

God has blessed you with a gift, skill, knowledge, passion, talent, skill or expertise, how do you turn that into a highly profitable business, so that you can transform the lives of people and also get paid while doing that?
Imagine Starting a business that gives you a lot of Fortune, fame and freedom. Learn how to Earn More Money, Make A Bigger Impact In The World and Work Less By Starting A Business That Gives You Freedom, Fortune and Fame.
You are going to discover all the tools, strategies, processes and teachings that I and thousands of my students have used to turn our passion, talent, expertise, skills and life experiences into a highly profitable business
Here's Just a tiny fraction of what you're going to DISCOVER...
​

#1: The 3 step framework for discovering your MOST profitable passion, talent, skill or expertise.
Most people have too many passion, skills, talent, i will show you how to identify and discover your most profitable talent, passion, skills and expertise.
If you don't also know what your passion, skill or expertise is, Johnson will help you discover it in 5 minutes or less.
Talents and passion are not enough, for you to turn it into a business, it must be something that people are willing to pay for, and I'll show you how.
#2: How to structure, package & brand your passion, talent, skills or expertise so that people will value it and beg to pay for it.
Other 'gurus' talk about how your life will transform once your discover your talent or passion but they don't show you how to structure it for people to value it.
That's my 'winning edge' I'm going to be showing you, step by step how to structure your talent, gifts, expertise in such a way that people will NOT only value it but they'll beg to pay YOU handsomely.
#3. How to create simple marketing system that will bring clients to you instead of you going to meet clients.
Let's face it, most people don't know how to market their talent, passion, expertise or knowledge.
At this live event, you're going to learn how to create a simple system that will bring clients to your business every single day.
It was the same simple marketing system that one of my students used and he got 11 clients begging to pay him in less than 24hours.
I'm going to be showing you the MOST simple, yet extremely effective and powerful marketing system that will help you attract client 24/7, so that clients will be the ones coming to meet you instead of you going to meet them.
#4: How to Automate your business so that it runs without you.
You're going to discover the same tools and strategies that I and my other successful students use to automate their businesses.
It is the same system that allows us to sell our products and services even while we sleep, you're going to see how to automate your entire business so that it runs without you.
#5: Live Case Studies from some of My Amazing Students
You are going to see a lot of case studies of ordinary people like you who have been able to build a highly profitable business with their Talent, Passion, Expertise or Knowledge.
…And Many, Many More.
Here's what a what an America Citizen, a New York Times Best selling Author, A multi-million (in USD) has to say...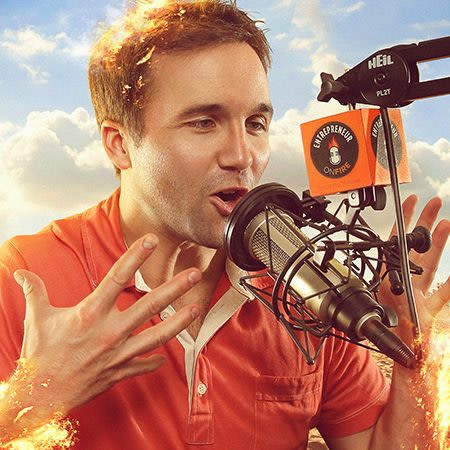 John L. Dumas Multi-millionaire & Founder, EntrepreneurOnFire
Johnson Emmanuel lays out the simple & proven roadmap that shows you how to take what you already have inside your head and turn it into a successful business that gives you a lot of fortune, fame and freedom.
You and I will be locked in a quiet, secured place and I'll not leave until I show you to turn your Passion, Talent, Expertise and Skills Into A Highly Profitable Businesss
---
Now, Meet some of our amazing students and past attendees
I was at Monetized Your Passion Summit in Lagos and was mesmerized with the dexterity which you exhibited. I'm grateful for the knowledge and advice you impacted us that day, You Always Over deliver every single time and I'm currently using your advice to build my own empire. Thank you so much. Dennis Obinna
If you are confused about what passion you've got and how to transform it into Naira and Kobo, you need to see Johnson Emmanuel real quick! Tomiwa Ogunremi
I was at Monetize Your Passion Summit early this year, I came all the way from Portharcourt to Lagos to attend the event,it was the best decision ever made till date. I'm very proud of Johnson Emmanuel. David Okocha
I was at Monetize Your Passion Summit in Lagos and Johnson Emmanuel over delivered. Johnson is someone who's very passionate about what he does and I will encourage anyone who has the opportunity to learn from him to immediately jump on the opportunity. For me, Monetize Your Passion Summit was an 'eye opener' Derin Ogunmola
Here's How To Secure Your Set Right Now
This event is 100% FREE but for you to secure your seat, you'll need to Pre-order my latest book…
Once you pre-order the book for N4,000 you'll automatically get a FREE TICKET to the MONETIZE YOUR PASSION SUMMIT on Dec. 9.
We plan to give you the book at the Summit venue or ship it to your house for FREE Immediately after the Summit but you MUST pre-order right now. All orders must reach our publishers latest 20th of Nov so that it can be printed.
ACCESS TO A BRAND NEW EXCLUSIVE FACEBOOK COMMUNITY
When you come to the Summit on Dec. 9, you'll also get exclusive access for life to our brand new community called CHANGEMAKERS ALLIANCE.
The community will be unveiled in Portharcourt and you be the first to get exclusive access to the AWESOME community.
It's a special community for people like you who are transforming lives, changing the world and making money with their passion, talent, expertise.
DATE: Dec. 9, 2017 Time: 8.30am Prompt
Venue: Aba Road, Portharcourt (The exact venue will be disclosed to ONLY the first 54 people who pre-order the book to avoid gate crashing)
---
Here's A Review of The last Edition Of MONETIZE YOUR PASSION SUMMIT...
​

There's a BAD NEWS...
​

The venue we are using can only accommodate 54 people at most and we have instructed our publishers to print ONLY 54 copies of the book.
​It is only on first come, first serve basis.
Also, you need to know that a lot of people are reading this page like you, it is best you secure your seat right now.
London Graduate School call him 'one of the distinguished personalities', nominated him for an honorary doctorate degree. Top-ranked United States Podcast hosts call him 'one of the leading marketing strategists in the world' and his clients from Africa call him Africa #1 Business Growth & Marketing Strategist. His clients have been featured on CNN,ABC, Fox, Forbes and he has helped them grow their customer base & revenue astronomically. Johnson's mission is to help you start & grow your business, acquire more customers & grow your revenue Rapidly.